If you change the way you look at things, the things you look at change.
View how print is everywhere.
The primary industries of graphic communications
The Print Industry is one of the world's top advanced manufacturing sectors. Its many services comprise Graphic Communications - one of the largest industries in these United States.
pick an industry to learn more

01
Commercial Print

02
Packaging & Converting

03
Tag and Label Printing

04
Grand Format

05
Promotional Print

06
Industrial Print
A responsible response to going green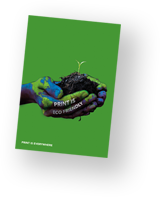 Think print isn't green? Think again...
The Print Industry is on the forefront of global sustainability practices.
We grow more trees than we harvest.

Vegetable and soy-based inks reduce waste.

More than half our energy is derived from recycle material.
Print is a truly renewable industry.
GET YOUR PRINT IS
EVERYWHERE KIT TODAY!
Complete the form to access the PRINT IS EVERYWHERE e-store to order your kit and support materials.
The Print is Everywhere campaign:
Helps all industry stakeholders effectively tell the positive stories of print to students, career advocates, and parents.
Conveys how print impacts everyday live in ways not always recognized as being borne by one industry.
Is designed by students of the Scottsdale Community College School of Visual Communications.

The Print is Everywhere kit includes:
Six Industry booklets (Commercial Print, Packaging, Tag and label, Wide Format, Industrial, and Promotional)
Resealable stickers promoting each of the six industries.
Career guide identifying print-related creative, technical, and management employment opportunities.
All of the above packaged in a custom printed box
The Print is Everywhere E-Store also includes access to support materials, videos, handouts, banners, and more.
For more information, contact Steve Bonoff or call 612.400.6203