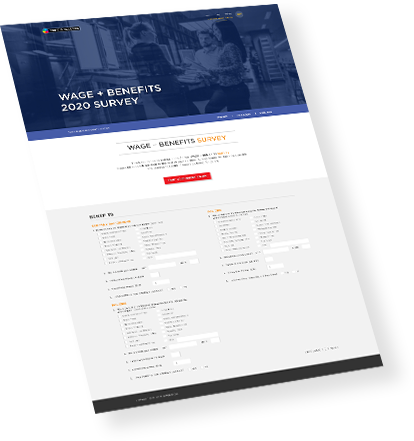 About the
Wage + Benefits
2020 Survey
North American affiliates of Print Industries publishes an annual survey of wages, benefits, and human resource policies of the Printing, Packaging, and Related Industries. The most recent survey had nearly 600 participating companies with wages and benefits reported of more than 17,000 employees, making this the largest and most reliable wage and benefit survey in the graphic communications industry.
The Wage + Benefits Survey includes:
Wages/Salaries for all reported positions in sixteen categories, segmented by region and company size.

Job Descriptions for more than two hundred positions.

Human resource policies for overtime, vacation, PTO, sick-time, health insurance, and other benefits.
About Print Industries
Print Industries provides career seekers, trade professionals, owners and managers of print service companies tools and training to support their business and professional development. The training, workforce tools, and publications at printindustries.org serve the primary industries of graphic communications and members of Print Industries Affiliate members. Print Industries uses a proven approach for preparing workers for rewarding careers while supporting the management and development of a highly-skilled and knowledgeable graphic communications workforce.
PRINT INDUSTRIES PROGRAMS & RESOURCES
Launching Summer & Fall 2020
PRINT IS EVERYWHERE
Campaigns to fill the graphic communications employee pipeline.
Training and Apprenticeship
Programs to prepare workers for rewarding careers in
graphic communications.
Business & Member Services
Offer tools and resources to operate graphic communications business.
Connect Locally
Supports the independent value of North American Print
Industries Affiliates.